Wow! What a day! The Torah Scroll which has lain unloved and unread for over 100 years has now been refurbished and returned to a Jewish Community. Ian Wall, Director of the Royal Cornwall Museum handed the scroll to His Royal Highness, the Duke of Gloucester, who, after a brief but pertinent speech then handed it on to Harvey Kurzfield, Chairman of Kehillat Kernow who also made a brief speech of thanks. 'Click' went the camera shutters and hundreds of photographs were taken, many of which will appear shortly on this website. A BBC Spotlight cameraman with camera was also on hand to record the entire event for posterity and he remained with us throughout the day so I shall be intrigued to see which 45 seconds will be selected to appear on the BBC Spotlight news tonight!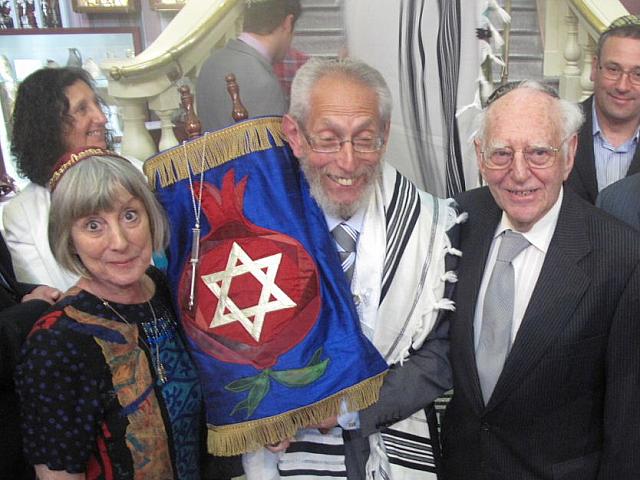 The Duke of Gloucester, accompanied by the Lord Lieutenant of Cornwall, was then introduced to many people present and stayed chatting with people for some time. He seemed genuinely interested in everything that was discussed and made the 'walk and talk' session a real pleasure.
At last the moment arrived and the scroll was safely delivered to Kehillat Kernow (as described above) and after the Duke and his entourage moved on to their next appointment arrangements were quickly made to prepare for the parade from the Museum to City Hall for the Service of Dedication. David Hearle, Adam Feldman, Murray Brown and Ze'ev Cohen were the canopy bearers and they escorted Harvey, still carrying the precious scroll, through the streets of Truro, preceded by Robin Holmes who played Klezmer and other tunes on his Cornish Pipes. The unsuspecting crowds looked on in amazement as this strange parade took place on this relatively quiet, half-term holiday Wednesday. Our excellent police escorts kept traffic at bay and we had a most splendid and exhilarating walk to City Hall.
We boldly marched up the grand, granite staircase into one of the large chambers where chairs had been laid out, each with the name of whoever had been appointed to sit in a particular chair! As we walked in we saw the Ark waiting on a table ready to house the scroll, and as people trooped in they took their places and waited for the service to begin. This service had been prepared by Elkan Levy, who had flown in from Israel to be with us. Also taking part was David Jacobs of the MRJ who had travelled from London.  Members of Kehillat Kernow contributed readings, Elkan gave an appropriate sermon and Harvey a similarly appropriate speech. Leslie Lipert presented Hilary Bracegirdle, former Director of the RCM and Angela Broome, Librarian at the RCM, with a Kehillat Kernow Kiddush cup each and to Elkan Levy, David Jacobs and Bernard Bennaroch (the scribe who had re-instated the scroll) he presented a copy of Keith Pearce's recently published 'The Jews of Cornwall'.
After the service there was a very tasty lunch served, everyone remarking on the taste, flavour and quality of the food and much opportunity for getting together and having a relaxing chat in very comfortable surroundings.
Many congratulations to Leslie Lipert who masterminded the entire proceedings; everything worked really well. Even the weather was excellent. Thanks to Pat Lipert who also shared the task of preparing  much of the groundwork. This was a great day for Kehillat Kernow and we should all feel justifiably proud to be members of this growing Jewish Community.