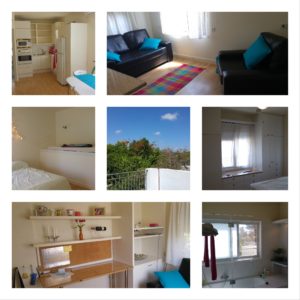 Helloooo
No miracle birth but I have been in Israel now for 9 months!
I finally succumbed and took a job at my friend's company in Ra'anana – not my ideal location, or job, though definitely a medium-term plan to get me out of Tel Aviv… Soooo not a city-girl anymore, though the beaches and sunsets are absolutely stunning. The longer I stay in Israel, the more I like the idea of living on a kibbutz, so I've got the next best thing and am on a moshav that's a mere 15 minute (electric) bike ride to the office. Let's hope it doesn't rain before I figure out alternative transportation!  I've taken a lease on an apartment that is the top floor of a family house – there's a big balcony, with a sofa that overlooks the equestrian centre, OK and the construction cranes in Kfar Saba. There are fruit trees growing all around so I'm looking forward to the ripening of pomegranates, mangos, lemons… and that's just what I can see from my balcony.
I spent the weekend shopping and unpacking as I seem to have expanded from the 3 suitcases of stuff I first came out with. Have joined so many Facebook groups I picked up a table with 4 chairs, a leather sofa and chair from various places, and a new bed, so the place isn't as barren as it could be. It's really weird as I keep thinking I've got all of my stuff already and don't need more, but it's mostly in Fowey, so may as well be in Timbuktu!
Ruth and Stevie made their annual pilgrimage to see me for a week in the summer and we enjoyed trips to Haifa, Jerusalem, Jaffa and a yoga class at the nemal, making more Facebook memories to be reminded of in the future (though glad they didn't take pics of me asleep at the Pink Floyd tribute concert, I was star-gazing…) – I seem to have had numerous reminders daily for months about trips by said duo, Hannah, Grace & Mils and the Pasters, along with general Fowey sailing and regatta fun!  Simmons has been out a couple of times too. All may attest to my driving skills – I passed my test to get an Israeli licence so am now expected to drive like a crazy person!!!
My language skills are regressing, now I'm more settled I think I'll have to take lessons again – it's just so easy not to bother… but I mamash (really) want to be fluent!!! I also took a calligraphy lesson in Jerusalem and am looking forward to practicing on graph paper with my special pens, watch this space…
I don't really have any news, though I got a call asking me what my favourite whisky is as I joined up to a group that meet every month and they wanted to get my favourite in – now have a craving for some Lagavulin…
Trust you're well and looking forward to hearing your news and seeing you when you come visit…
Lotsoflove xxx
Jo Gore